SKU:FLM-FBD-51R-JPT
Regular price
$6,299.00 USD
Regular price
$7,499.00 USD
Sale price
$6,299.00 USD
Unit price
per
Sale
Sold out
MCWlaser Official Quality Inspection (100% brand new original authentic).

Secure payments; Lifetime Tech Support (Specialists).

Support Shipping Worldwide, US and EU stock.

Good customer service. Please contact us at info@mcwlaser.com.
Main Parmeter
Laser Power: 50W
Laser Source:JPT
Frequency: 1-600kHz
Maximum Pulse Energy: 1.5mJ
Pulse Duration: 200ns
Lens: 220x220mm lens by default.
70x70mm/110x110mm/150x150mm/175x175mm/200x200mm/300x300mm optional
Wavelength: 1064nm
Rotary Axis: Ring D69mm by default.
D80/D100mm/D125mm rotary axis optional
Marking Speed: ≤7m/s
Software: EZCad2, compatible with Lightburn;
Compatible System: Windows XP/Mista/Win7/Win8/Win10/Win11
Advantage
1. JPT laser source has advanced beam quality
2. Fully enclosed safe cabinet
3. Reliable galvanometer marking speed up to 7m/s.
4. Latest upgraded EZCAD 2.0 Software (compatible with Lightburn).
5. Stable F-theta lens
6. Double red dot positioning can quickly find focus.
7. 2-year warranty.
Size & Weight
Machine Size: 43x76x73.6cm/16.7x26.2x 29.6in(L×W×H)
Net Weight: 78Kg
Package Include
1. Fiber Laser Marking Machine
2. Rotary Axis (D69 by default)
3. Laser Safety Goggles
4. Tape Measure
5. Foot Switch
6. Power Cable
7. USB Drive
8. USB Cable
9. Allen Wrench
10. Color Aluminum Sheet
11. Cable
12. Lens(Marking Area 150x150mm by default)
Waranty
Worldwide Waranty 2 Years
Free replacement parts during warranty period
Certification
FDA Compliant
CE Certification

Application
It is mainly used in for the fine and deep marking process of metal and non-metal materials. Such as Stainless,Artificial,Aluminum,Gold,Silver,Brass,Titanium,Tungsten,Steel,Leather,Acrylic,Hard plastics,Brick,Granite,Marble,Tile,ABS,PVC,ceramic, stone etc.
It is widely used for marking jewellery, keyboards of cell phone, auto parts, electronic components,electronic appliance, communication apparatus, sanitary wares, buckles, kitchenware, sanitary equipment's, hardware tools, knife, glasses, clock, cooker, stainless steel products etc.
Manual Download
View full details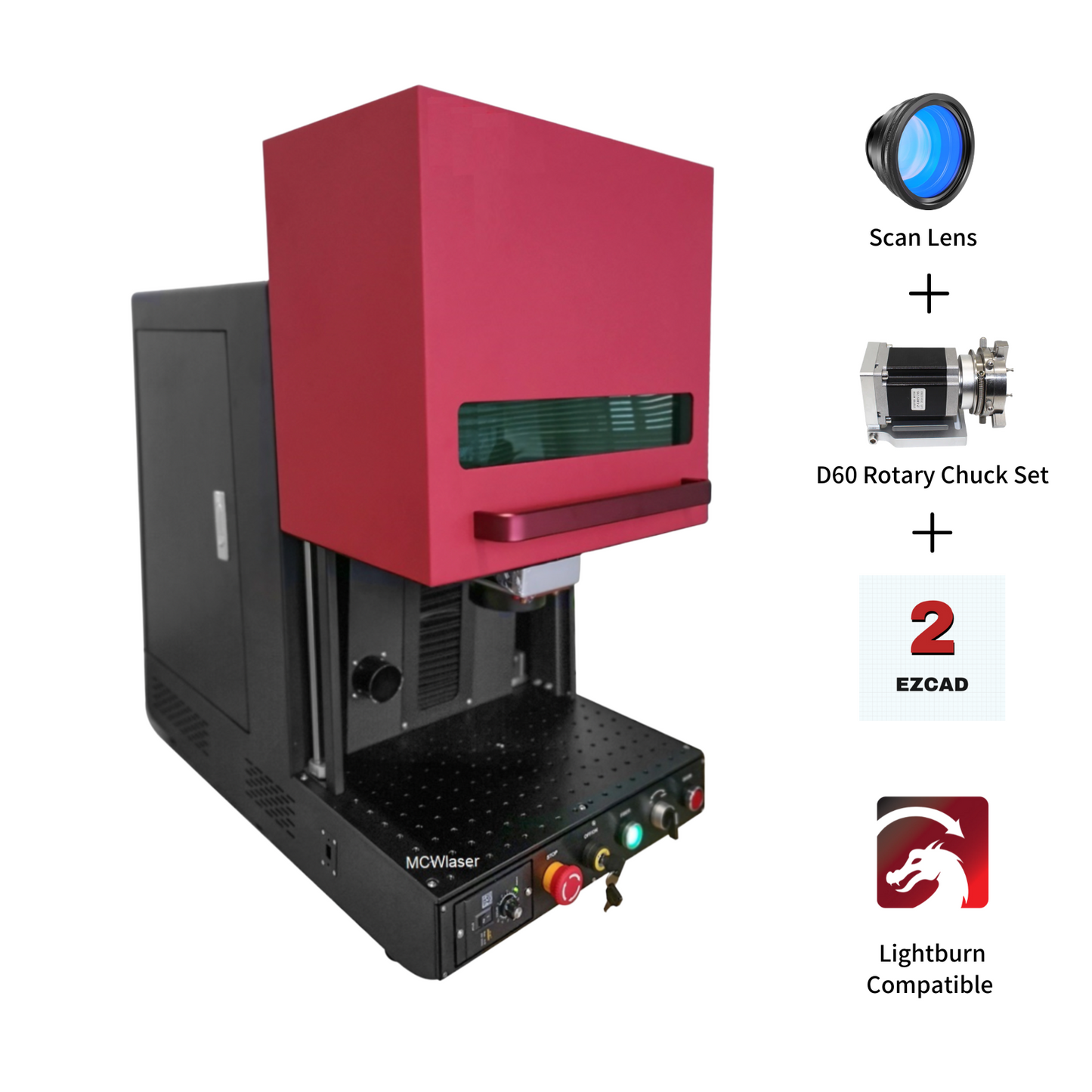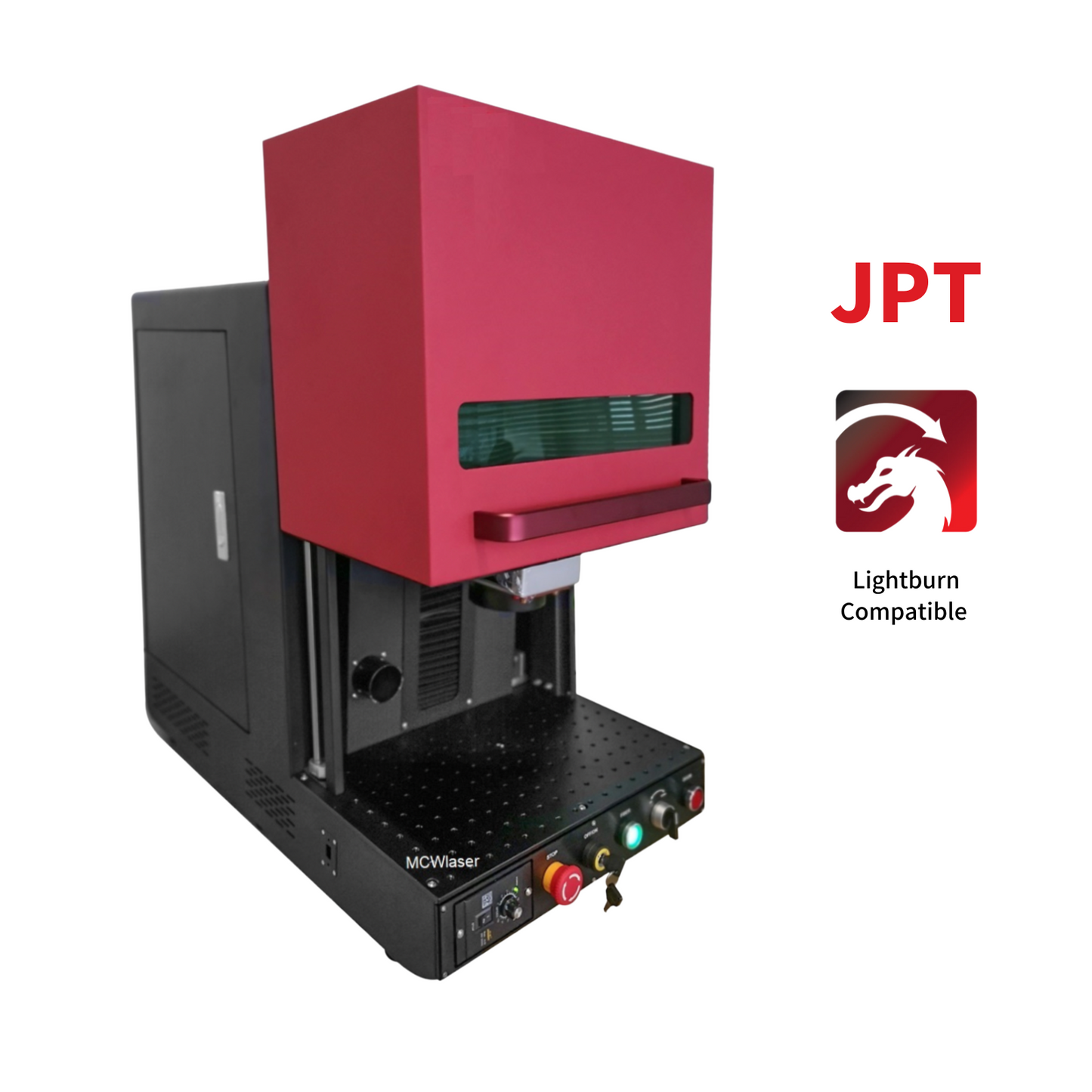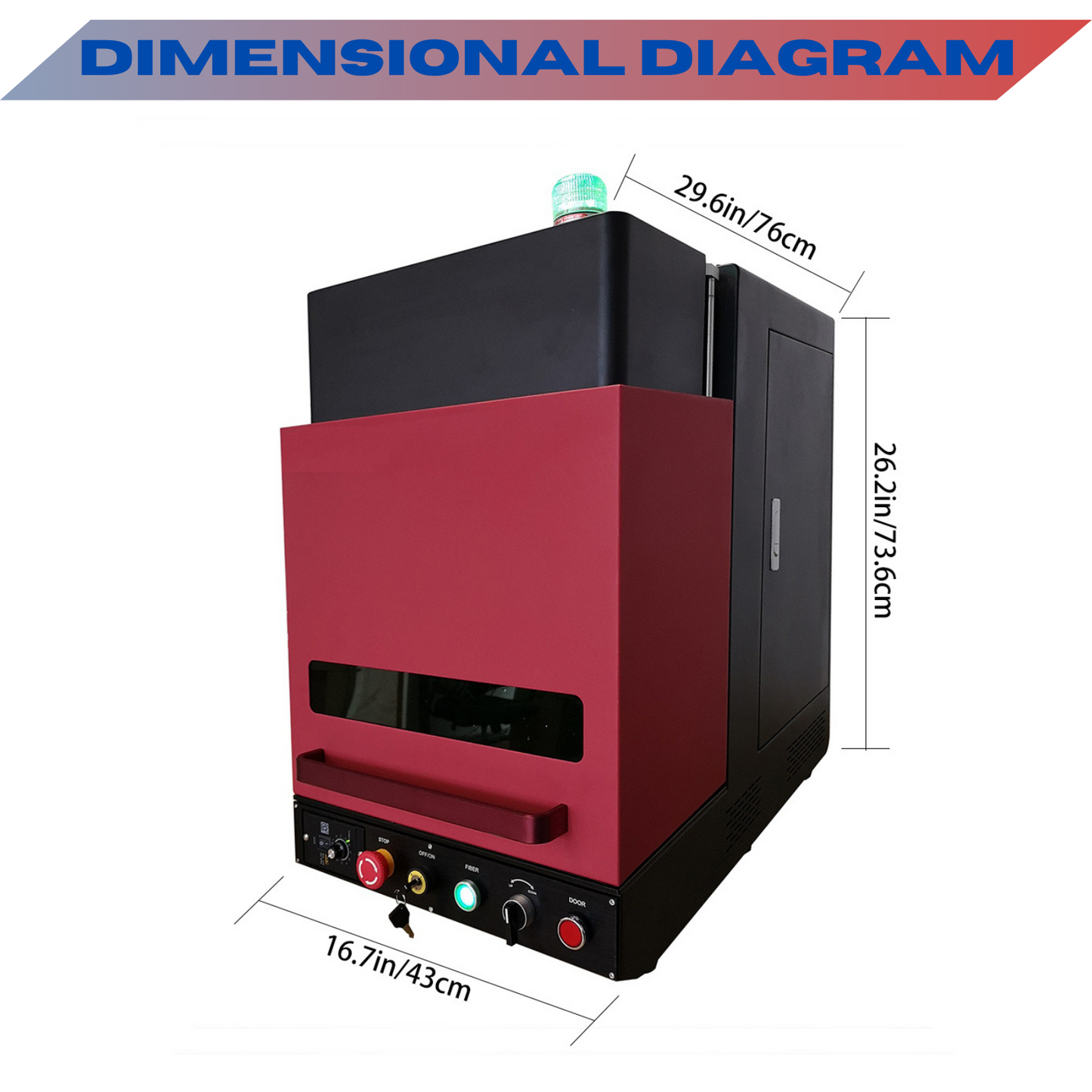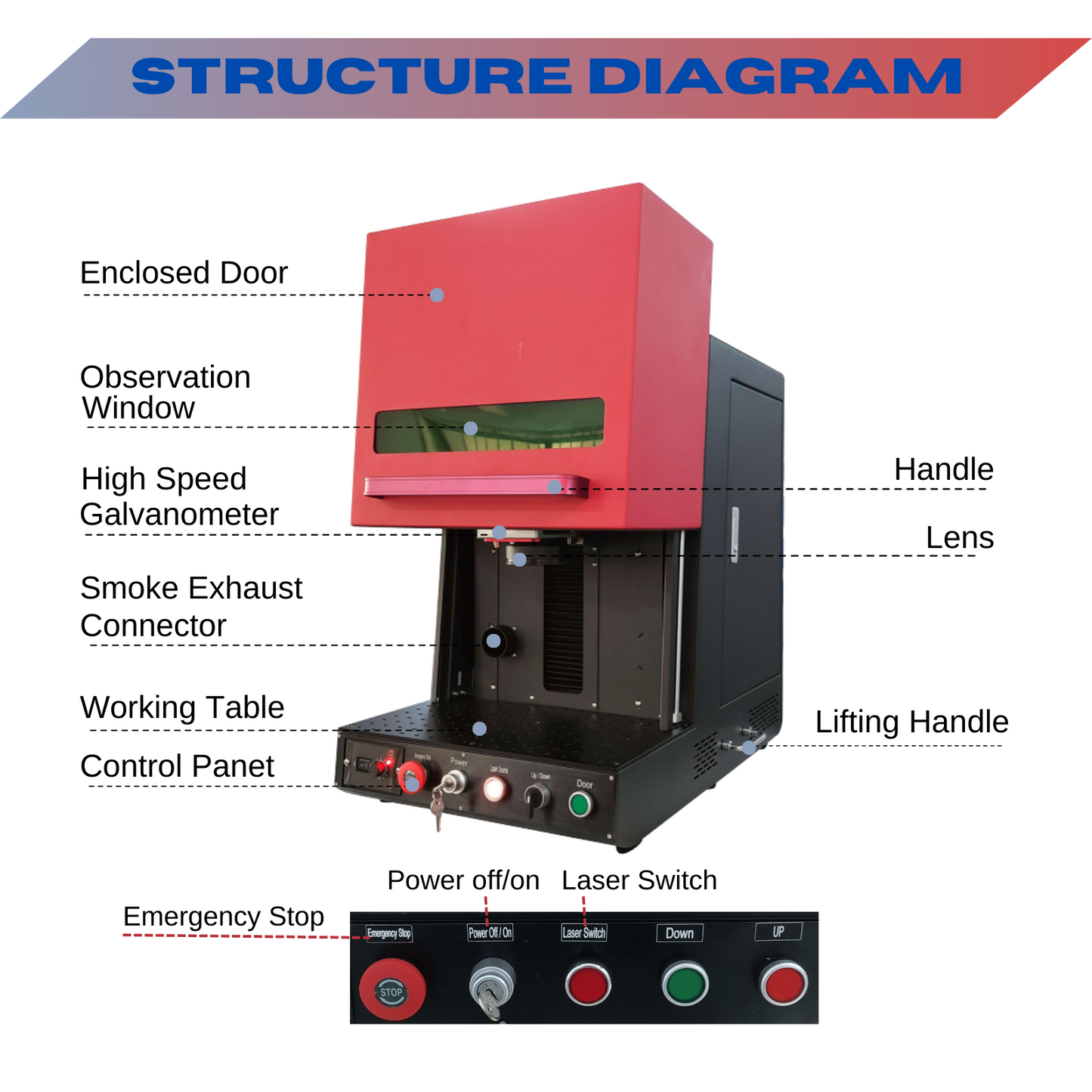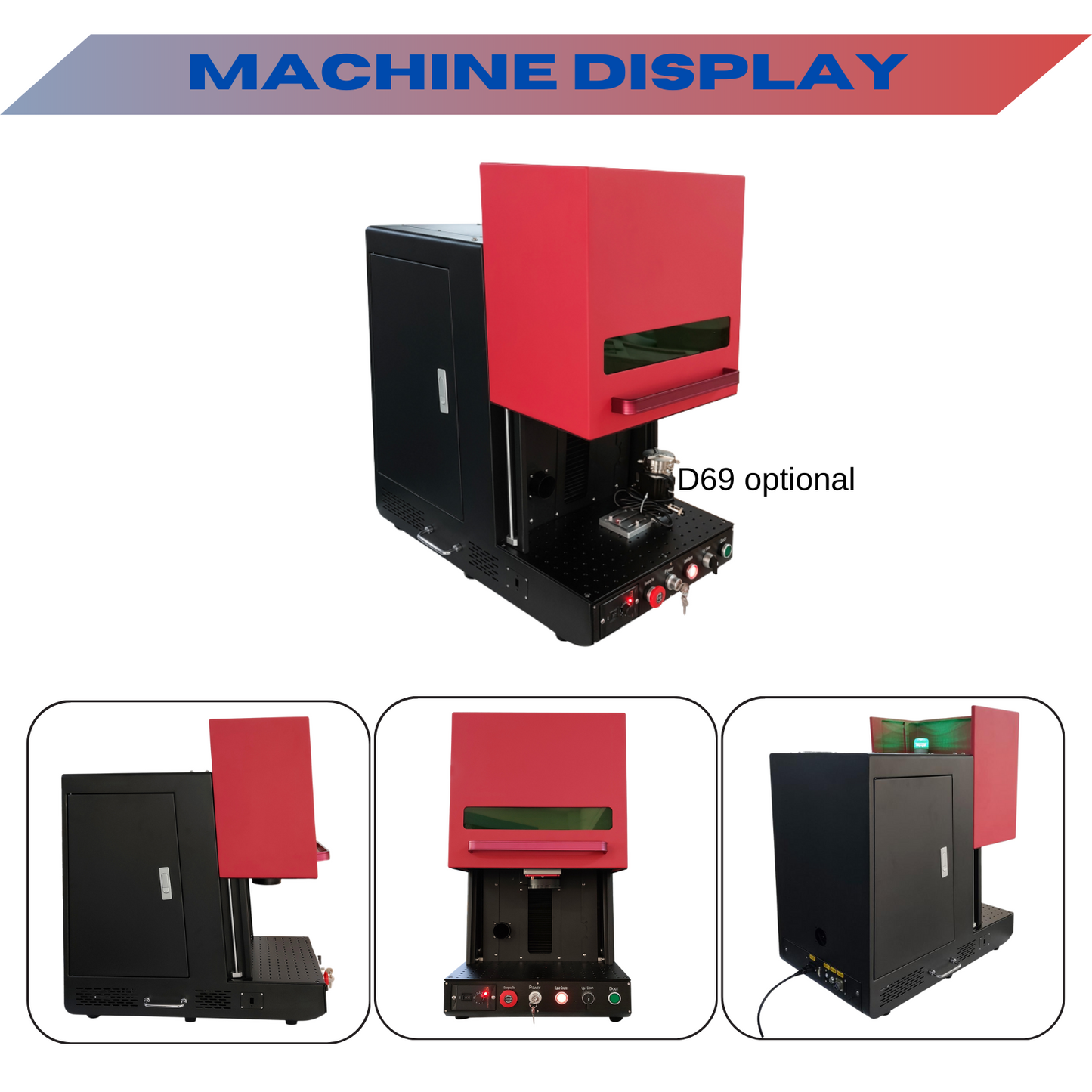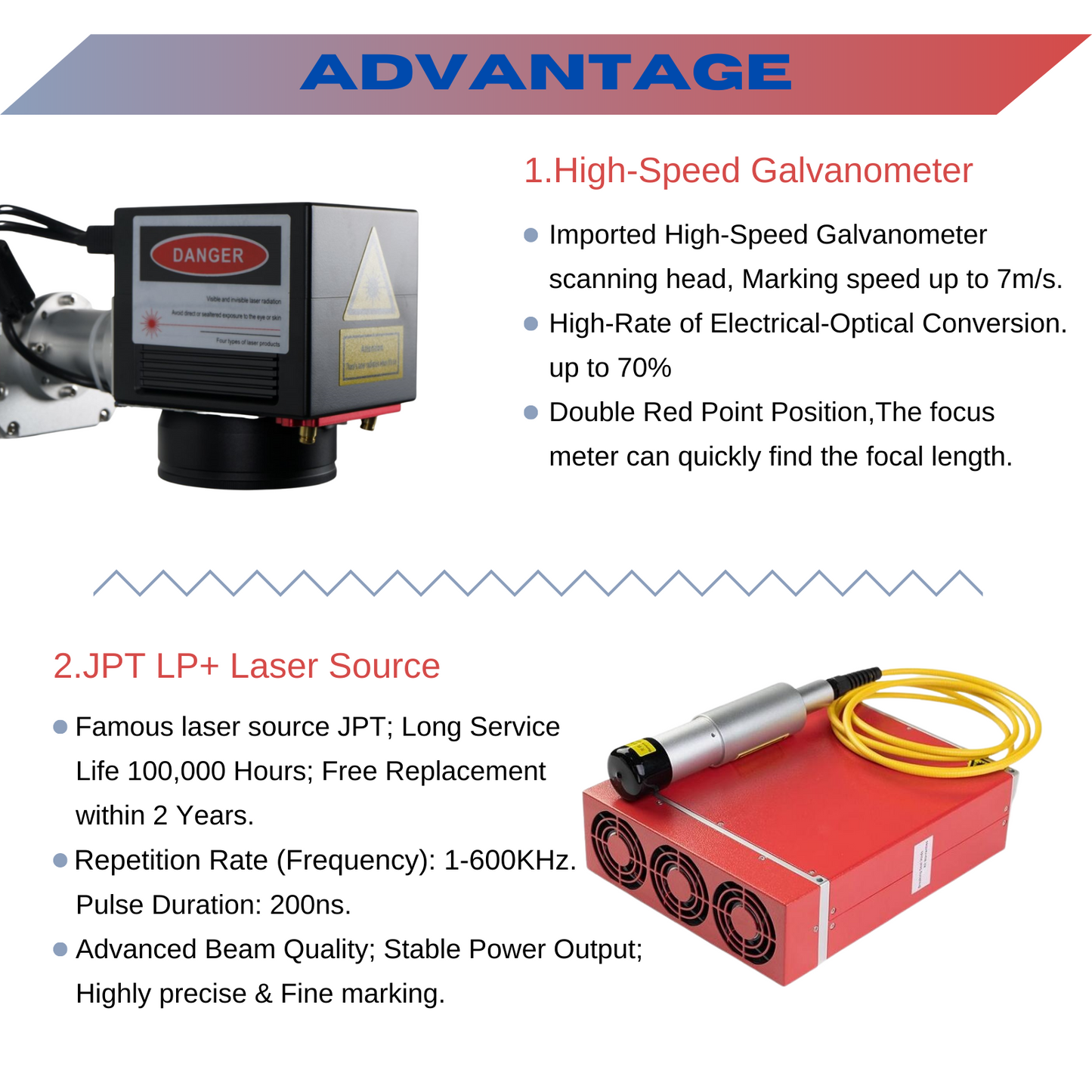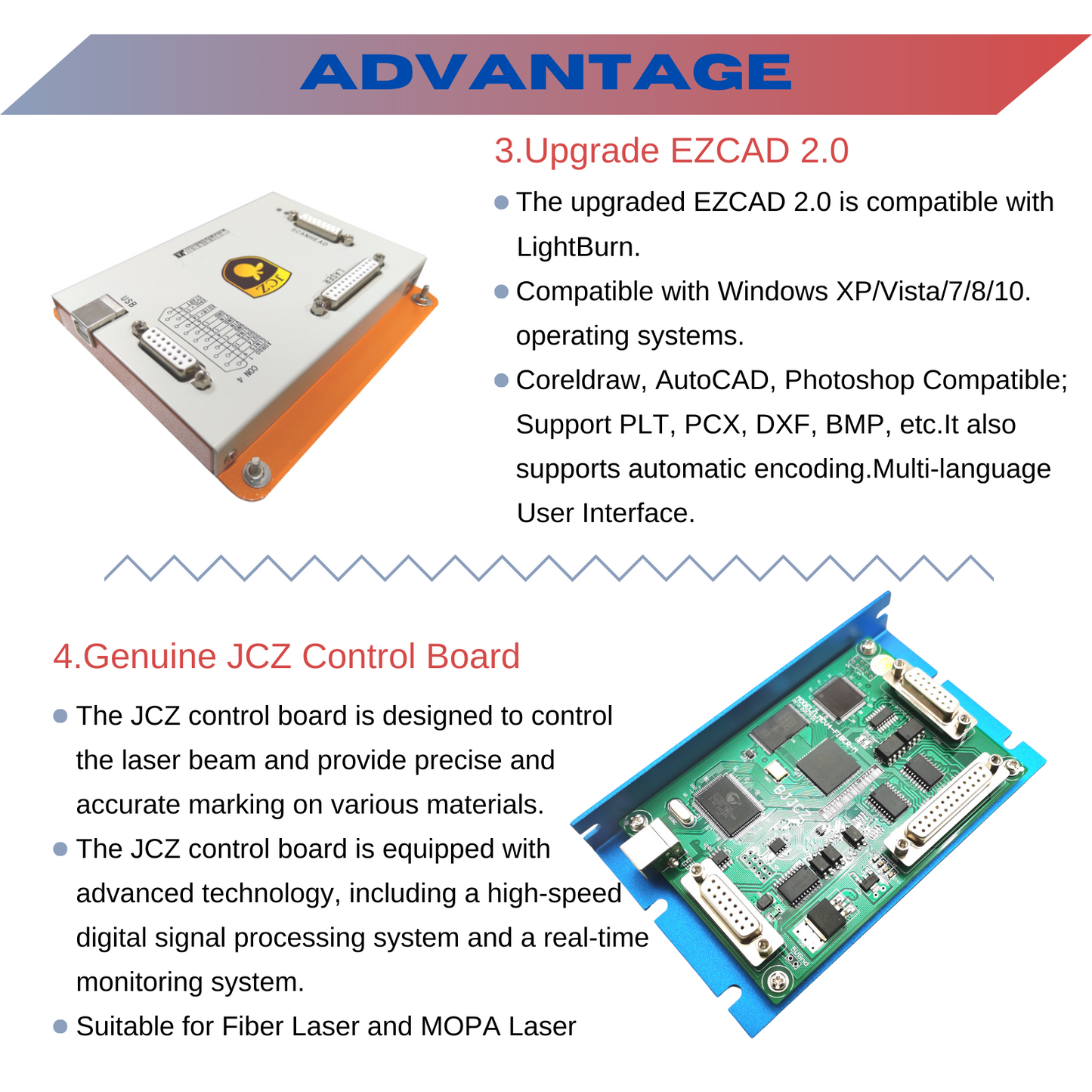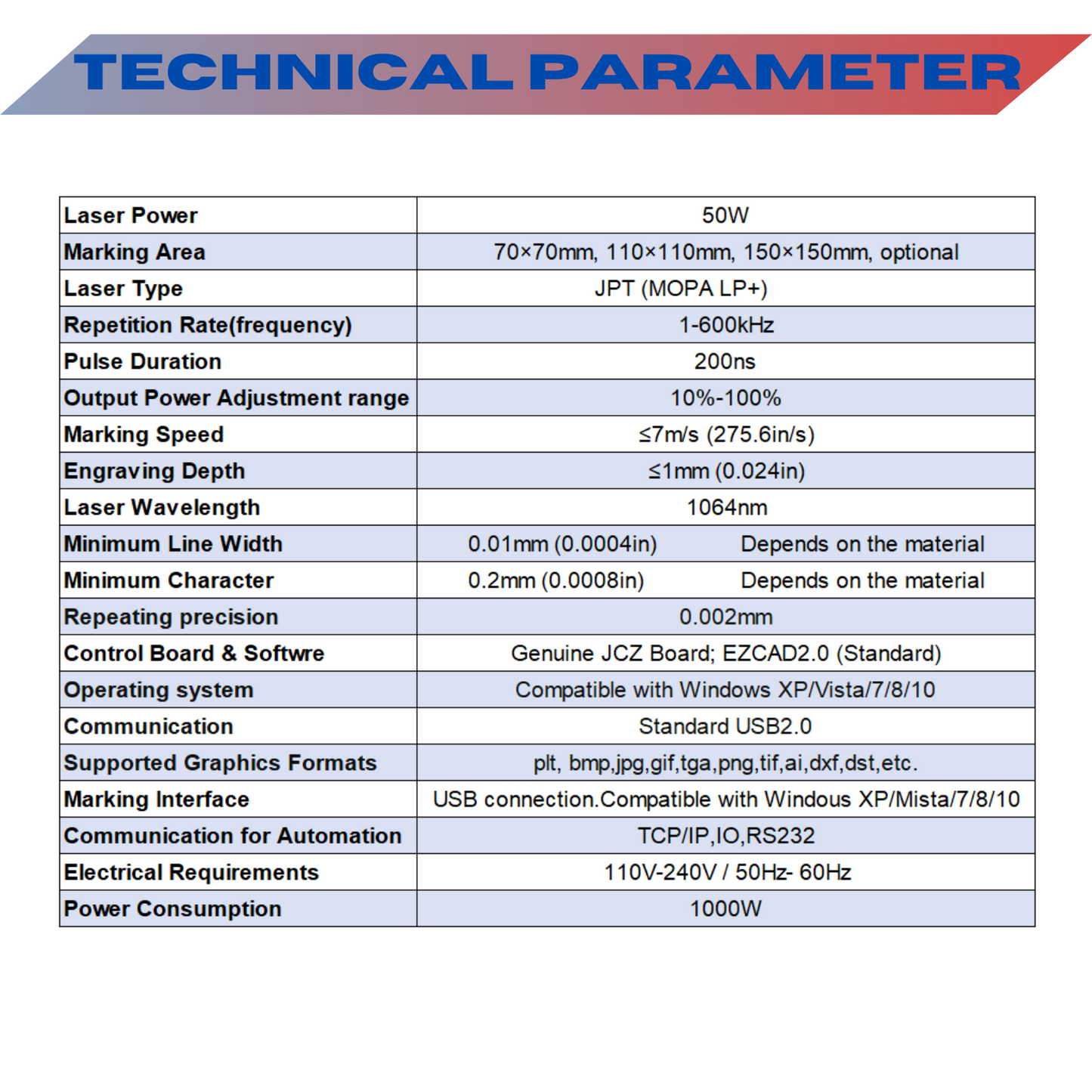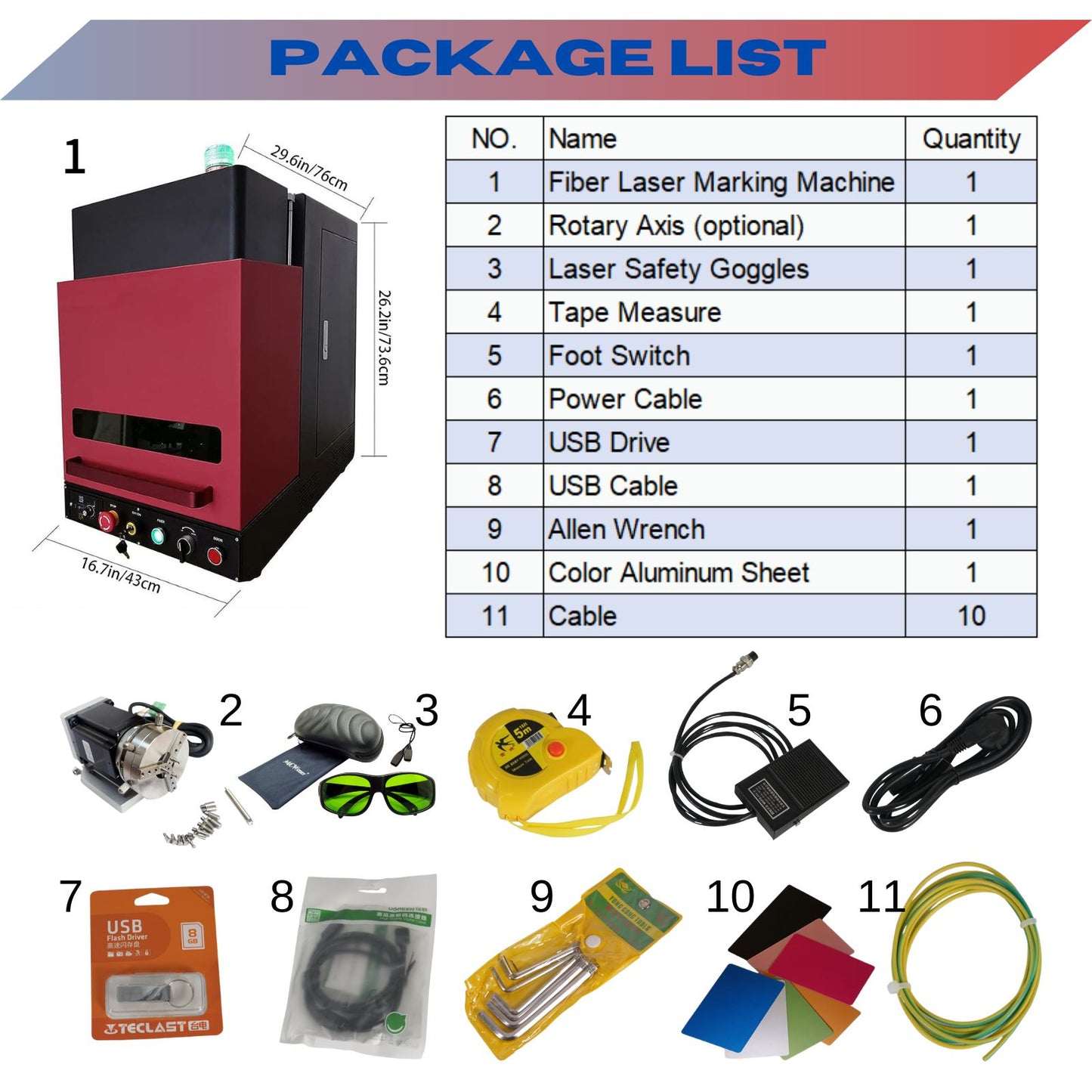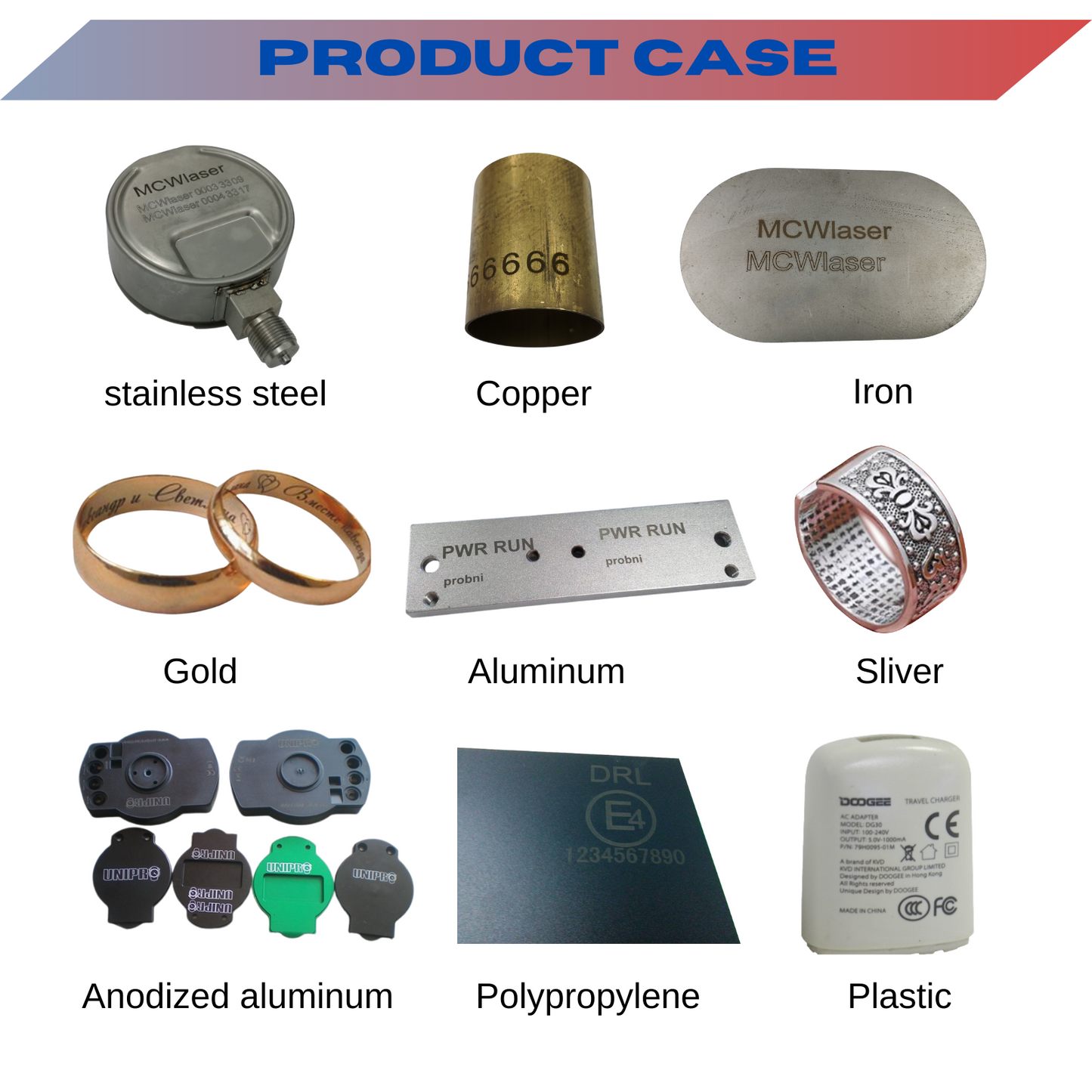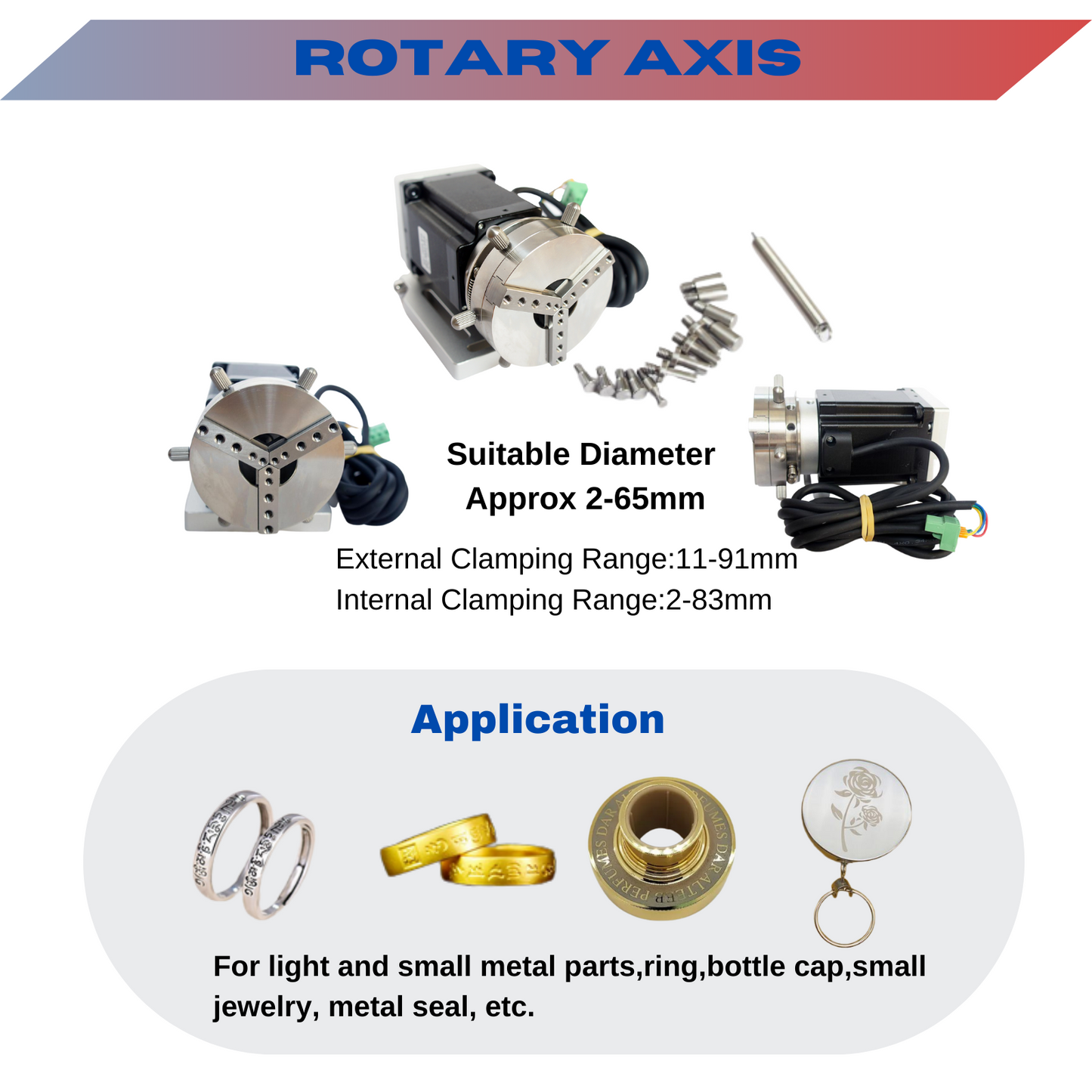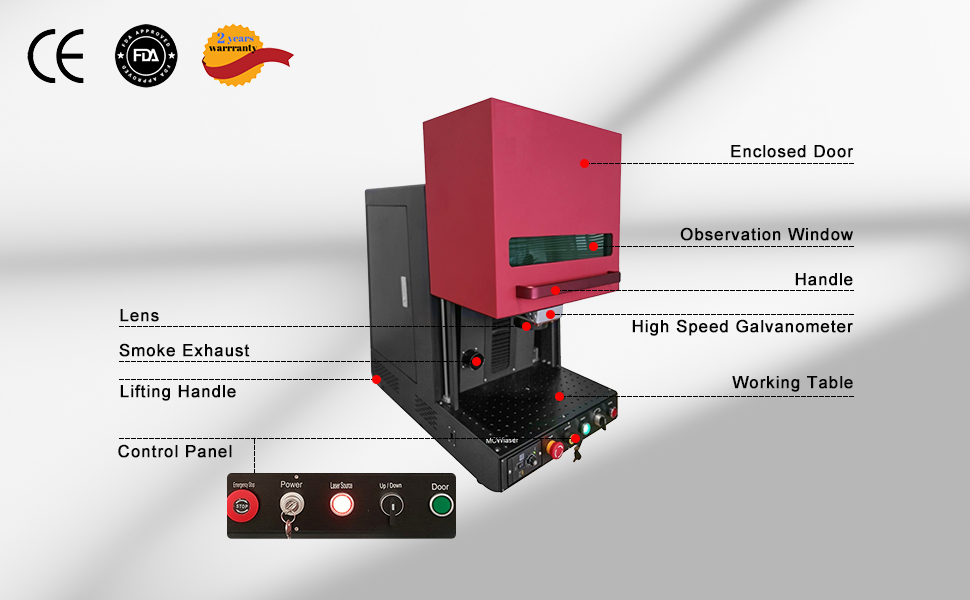 MCWlaser 50W Enclosed JPT Fiber Laser Engraver Marking Machine Type B
1. Totally-Closed Type with Observation Window.High-Rate of Electrical-Optical Conversion up to 70%; Imported laser scanning system, high marking speed max 7m/s; Re-position precision is 0.002mm; Repetition Rate Frequency 1-600kHZ; Pulse Duration 200ns
2. Double Red Dot Positioning. The focus meter allows you to quickly find the focal length by simply checking if the two red dots overlap on the surface of the product to be marked.
3. US and EU stock, free shipping, and import Duty; 4 to 6 working days to delivery; 2-Year Warranty and free replacement parts; Support customers to pick up on-site at our U.S. Warehouse. Need to pick it up on-site at our U.S. Warehouse.
Features
【JPT LP+ Laser Source】
Excellent beam quality, stable performance, and higher efficiency.Repetition Rate Frequency: 1-600kHZ; Maximum Pulse Energy: 1.25mJ;Pulse Duration: 200ns.
LP+series has perfect laser characteristics and good pulse shape control ability. Compared with Q-switched fiber lasers, the LP series lasers have more flexibility, can achieve lower and higher frequencies, and have a smaller opening delay.
Lifetime above 10,0000 hours,2-Year Warranty, and free replacement within the warranty period.
【JCZ Control Board】
The JCZ control board is designed to control the laser beam and provide precise and accurate marking on various materials.

The JCZ control board is equipped with advanced technology, including a high-speed digital signal processing system and a real-time monitoring system.

Suitable for Fiber Laser and MOPA Laser

【Stable F-theta Lens】
F-theta lenses offer a consistent focus across the entire scanning area, ensuring uniformity in laser processing.
The flat field of focus allows for faster scanning speeds. Does not require complex adjustments as it moves across the work surface.
An industry-standard M85 threading on all F-theta lenses allows for easy mounting and simple retrofitting of OEM systems.
【EZCAD2.0 Software】
The newest upgraded EZCAD2.0.Compatible with Lightburn.Win7/8/10/11/XP Compatible; Coreldraw, AutoCAD, Photoshop-compatible.
Supports PLT, PCX, DXF, BMP, etc. Multi-language interface, such as English, Spanish, German, French, Italian, Japanese, etc.; Easy to use.
Technische Parameter
| | |
| --- | --- |
| Laser Power | 50W |
| Marking Area | 150×150mm by default,70x70mm110×110mm,optional |
| Laser Type | JPT (MOPALP+) |
| Repetition Rate(frequency) | 1-600kHz |
| Pulse Duration | 200ns |
| outputPowerAdjustment range | 10%-100% |
| Marking Speed | ≤7m/s(275.6in/s) |
| Engraving Depth | ≤1mm(0.024in) |
| Laser Wavelength | 1064nm |
| Minimum Line Width | 0.01mm(0.0004in) Depends on the material |
| Minimum Character | 0.2mm (0.0008in) Depends on the material |
| Repeating precision | 0.002mm |
| Control Board & Softwre | Genuine JCz Board;EZCAD2.0(Standard) |
| Operating system | Compatible with Windows XPMsta/7/8/10/11 |
| ommunication | Standard USB2.0 |
| Supported Graphics Formats | plt, bmp.Jjpg.gif,tga,png,tif,ai,dxf,dst,etc. |
| Marking lnterface | USB connection.Compatible with Windous XP/Mista/7/8/10/11 |
| Communication for Automation | TCPAP,IO,RS232 |
| Electrical Requirements | 110V-240V 50Hz-60Hz |
| Power Consumption | 1000W |
Size
Packing List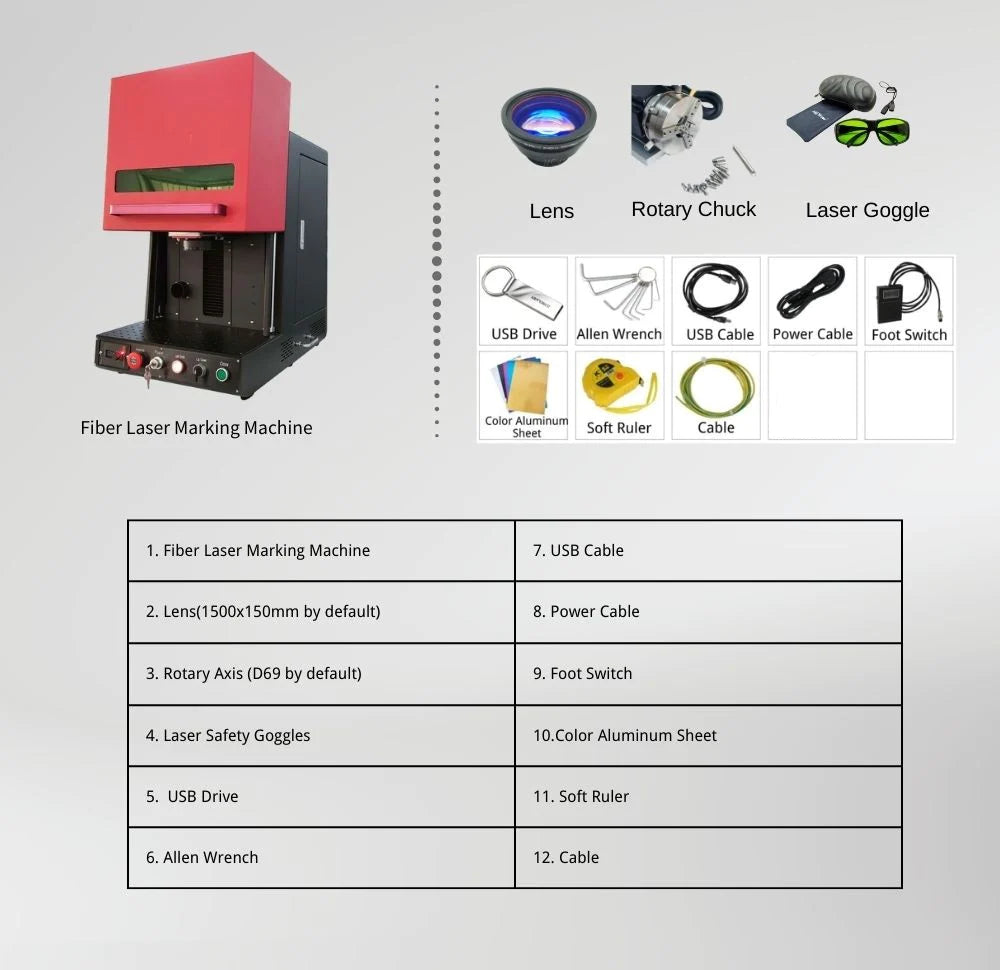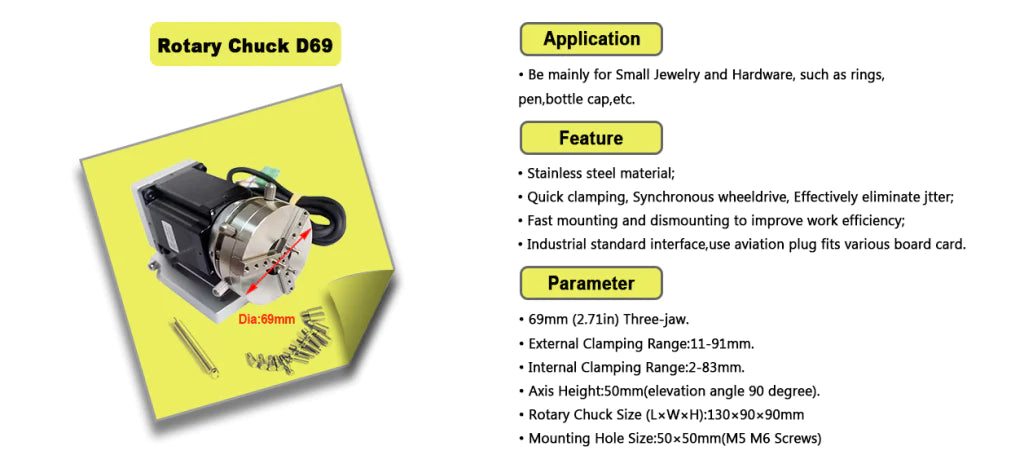 Application
It is widely used in a variety of metals and some non-metallic materials marking; Typical materials include Aluminium Gold Silver Platinum Silver Titanium Brass Tungsten Carbide Nickel Stainless Steel Chrome Copper and nonmetals like ABS, PBT, Silicon, ABS, PS, Polymer and so on.
Certificate
FDA and CE certifications ensure product safety and compliance.
Contact form
This laser came already zeroed-in - I didn't have to calibrate, though I did to confirm the settings. It's built very well, takes the parameters from Laser Everything without any issue, and seems to deliver better quality markings and etching than others in its class. The equipment is solidly assembled, gears are smooth, and it is in pristine condition despite traveling the ocean in a small crate. Delivery occurred 3 weeks faster than forecasted, which is always pleasing. I have no problem recommending this to others, If you're wanting to anneal colors into metal, you'll be needing to get this one's bigger brother. Plastic marking and metal etching is no problem on this. This is completely compatible with EZCAD and Lightburn.
We bought this machine to engrave parts instead of tying up a 4-axis CNC machine to do the same thing. The laser is more versatile and does amazing quality work and you never have to worry about breaking a carbide bit! The seller was very responsive and easy to deal with. The machine arrived quickly and has been a workhorse around our shop ever since. Very happy with this purchase!
This product is of high quality, easy to use, and comes with great Tech support! I would definitely purchase again.
Had a problem with the galvo head mirror. I contacted MCWlaser and the machine was fixed within a week. Great customer service.
We have been using our laser for almost 2 months and are very pleased. All aspects from crating to included accessories were impressive. We were up and running within an hour from uncrating. We were able to achieve a very sharp engraving of text less than .032". Be prepared, despite an extensive knowledge of AI & Corel, the learning curve to use ExCad (also included) is very steep. It is full featured but don't expect to be proficient for a while. Also, you will want to buy an exhaust fan as the fumes from certain metals is offensive.
Flash Sale - Lowest Prices & Discounted Prices
FAQs
What about the shipping method and time?

By Expedited Shipping (by DHL/Fedex/UPS/DPD), door-to-door service.
1. General products,
CN Warehouse: 5-9 Business Days
UAS Warehouse: 3-5 Business Days
EU Warehouse:5-7 Business Days

2. Customized products (Only Support Shippment From China Warehouse)
The average period of production: 5-6 Business Days
Shipping: 5-9 Business Days
(Notification: Customs clearance inspections may cause delays of 2-3 days in logistics)1. General products

By Sea or Air to sea or airport (door-to-door service is optional)
It is for larger cargo.
The delivery time depends on the detailed shipping address, please check the exact time and cost with us.
What about the Customs Duty and VAT or Tax?

1.If your order was shipped from China,the pice doesn't include the import tariff duty, tax, or VAT.
The tariff duty, tax or VAT depend on local law and policy in difference country. The buyer needs to cover the cost.
2.If your order was shipped locally, such as from US ,AU or Europe,the price includes the duty,tax or VAT. The buyer don't need to pay customs duty, tax or VAT.
3 .Part of products in EU and US support PICK UP ON SITE Please check with us about the detail if you need.
If you can provide the invoice?

Yes,if you need the invoice,please contact with service@mcwlaser.com
What is your product warranty like?

Notification: 

All customer support services and policies will be only applied to orders on https://www.mcwlaser.net/
https://www.mcwlaser.com/
MCWlaser Amazon Store

If your products are not purchased from our official website or our Amazon Store, but purchased through another third-party platform, we will not be responsible for your order.

Please view our detailed warranty instructions: https://www.mcwlaser.net/pages/warranty

If you have any questions, please contact us:
Email: info@mcwlaser.com
Whatsapp/Wechat: 0086 18121236578
I failed to process the payment via credit card, what should I do?

If you are having difficulty processing payment via credit card, there are a few steps you can take:

Contact your credit card company: Verify with your credit card company whether the amount exceeds your spending limit and ensure that all payment activity is being authorized by you. It's also possible that your credit card company is experiencing technical difficulties or maintenance, which is preventing the payment from going through.
Contact the merchant: In this case, you should contact the merchant (in this case, info@cloudray.com) immediately to inform them of the problem. The merchant can check if there are any issues on their end, and help you troubleshoot the problem.
Use an alternative payment method: If the problem persists, you may want to consider using an alternative payment method, such as PayPal or bank transfer.

Remember to always exercise caution when making online purchases and to protect your personal and financial information.
MCWlaser Product and Service Support
Regardless of whether the product purchased by the customer has reached the warranty period, MCWlaser provides lifelong technical support for all customers who purchase products at https://www.mcwlaser.net/.

For complex technical issues, we provide expert support services (only for customers who purchase products at https://www.mcwlaser.net/), and our experts can assist customers to solve problems through remote operation or video calls.

We offer regular promotions, follow us on our website and social platforms, or ask our online customers. All promo codes are valid only at https://www.mcwlaser.net/.