SKU:CW-6300AN
Regular price
$4,399.00 USD
Regular price
$4,499.00 USD
Sale price
$4,399.00 USD
Unit price
per
Sale
Sold out
MCWlaser Official Quality Inspection (100% brand new original authentic).

Secure payments; Lifetime Tech Support (Specialists).

Support Shipping Worldwide, US and EU stock.

Good customer service. Please contact us at info@mcwlaser.com.
Description
The S&A CW-6300 series is a high-precision compression refrigeration small water chiller, designed with intelligent temperature control, completed configuration, perfect protection, and alarm systems. Our industrial water chillers are equipped with two temperature control modes: constant temperature and intelligent temperature control. With the intelligent mode, the water temperature is automatically adjusted based on ambient temperature changes. This one-key solution provides customers with worry-free water temperature adjustment for seasonal changes.
Parameter
MODEL

CW-6300AN

CW-6300BN

CW-6300EN

Voltage

AC 1P 220~240V

AC 1P 220~240V

AC 3P 380V

Frequency

50Hz

60Hz

50Hz

Current

3.4~18.1A

3.9~22.1A

1.2~7.8A

Machine Power

3.44kW

4.0kW

4.0kW

Compressor power

2 64kW

3.15kW

2.65kW

3.59HP

4.28HP

3.60HP

Nominal cooling capacity

26826Btuh

32423Btuh

27440Btu/h

7.86kW

9.5kW

8.04kW

6758Kcal/h

8168Kcal/h

6913Kcalh

Refrigerant charge

2150g

2100g

2350g

Pump power

0.55kW

0.75kW

Max.lift

44M

54M

Max.flow

70L/min

Refrigerant

R-410a

Precision

±1℃

Reducer

Capillary

Tank capacity

40L

Inlet and outlet

Rp1"

N.W.

118Kgs

125Kgs

132Kgs

G.w.

145Kgs

152Kgs

149Kgs

Dimension

83*65x117cm(L xWxH)

Package dimension

95*85x134cm(L xWxH)
Features
The S&A CW-6300 series is a small but powerful high-precision compression refrigeration water chiller, with intelligent temperature control, completed configuration, perfect protection and alarm system. It boasts an 8500W cooling capacity with optional environmental refrigerant and a ±1℃ precisely temperature control for consistent performance.
The intelligent temperature controller has 2 control modes, each applicable to different scenarios with various setting and display functions. Additionally, it has multiple alarm functions including compressor time-delay protection, compressor overcurrent protection, water flow alarm, and over high / low temperature alarm. It has multiple power specifications and is CE and RoHS approved, ensuring safety and quality. With a long working life and simple operation, it is an ideal solution for cooling applications. Optional heater and water filter are also available.
Tips: Cooling water additive is forbidden by express company, so we could not put it into the package.You can buy it from local.
Specification
CW-6300: Applied to cool co2 glass laser tube
CW-6300: Applied to cool co2 metal laser tube;
CW-6300: Applied to cool CNC spindle ect.;
CW-6302: Dual inlet and outlet series (option); heating device (option); filter(option)
Installation
Cautions & Troubleshooting
View full details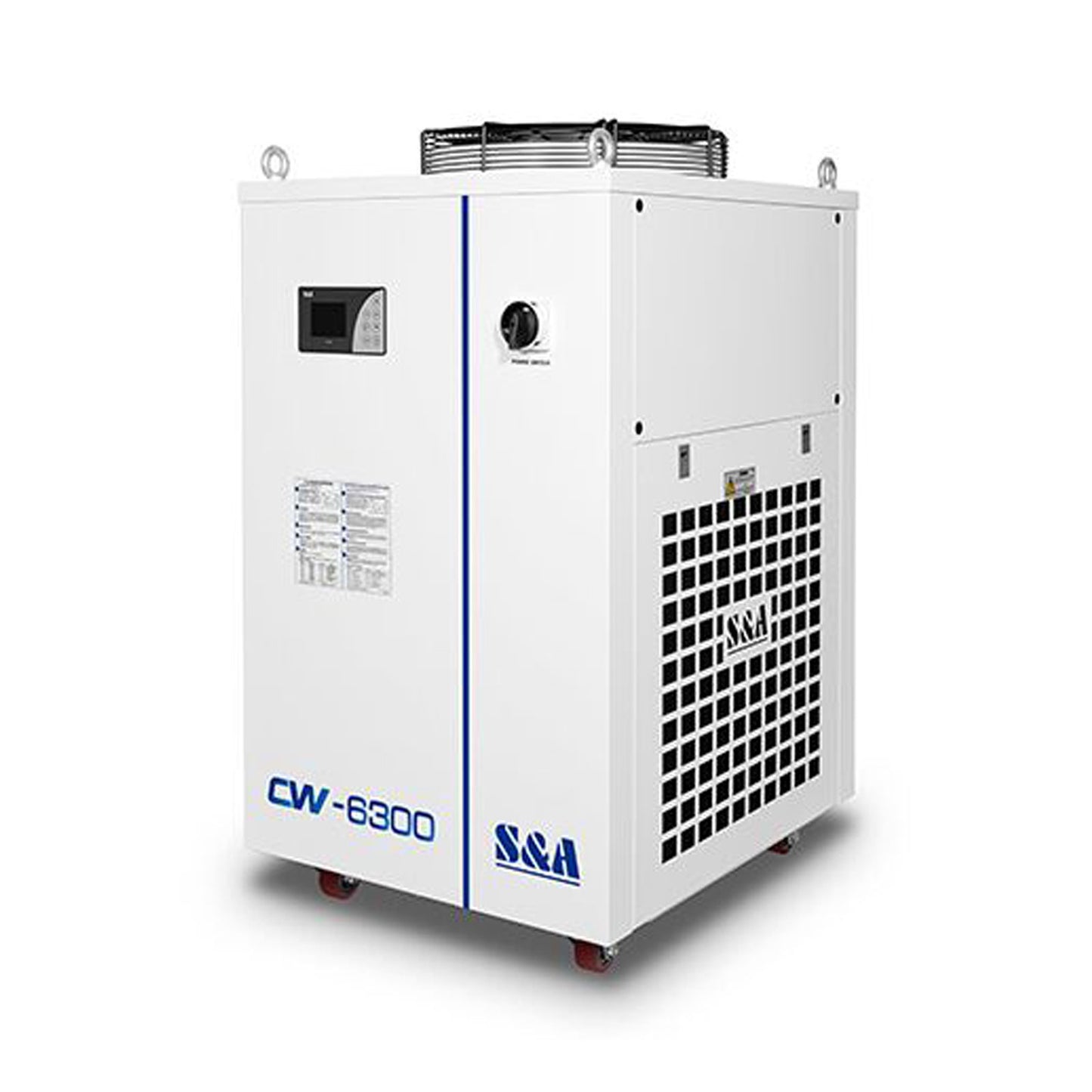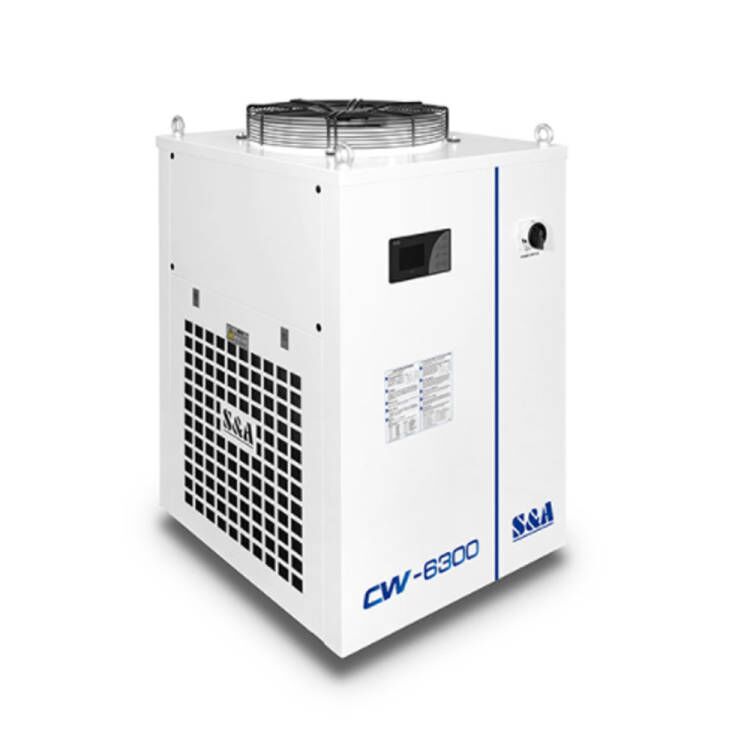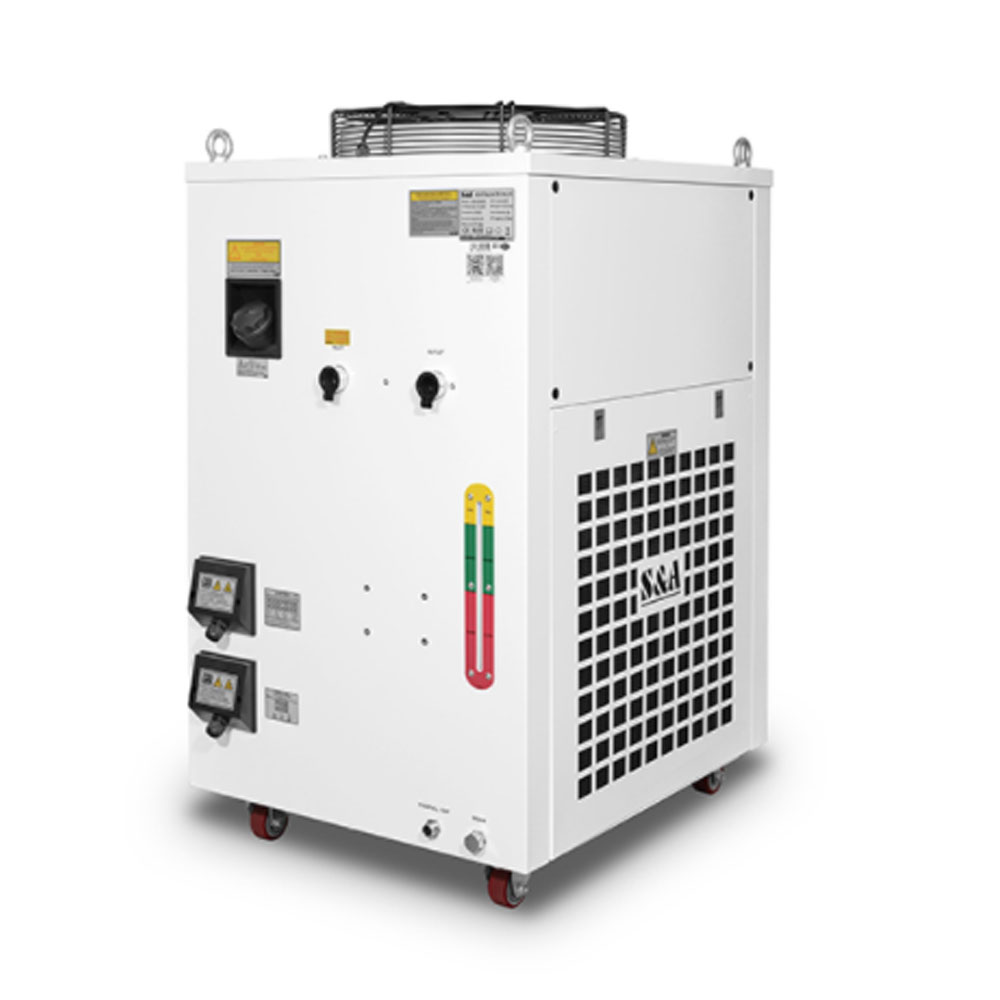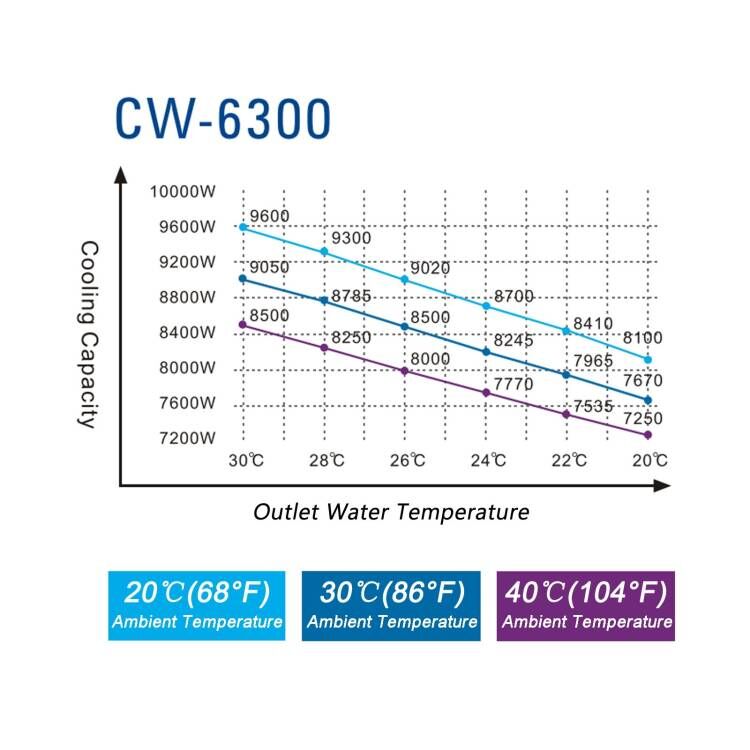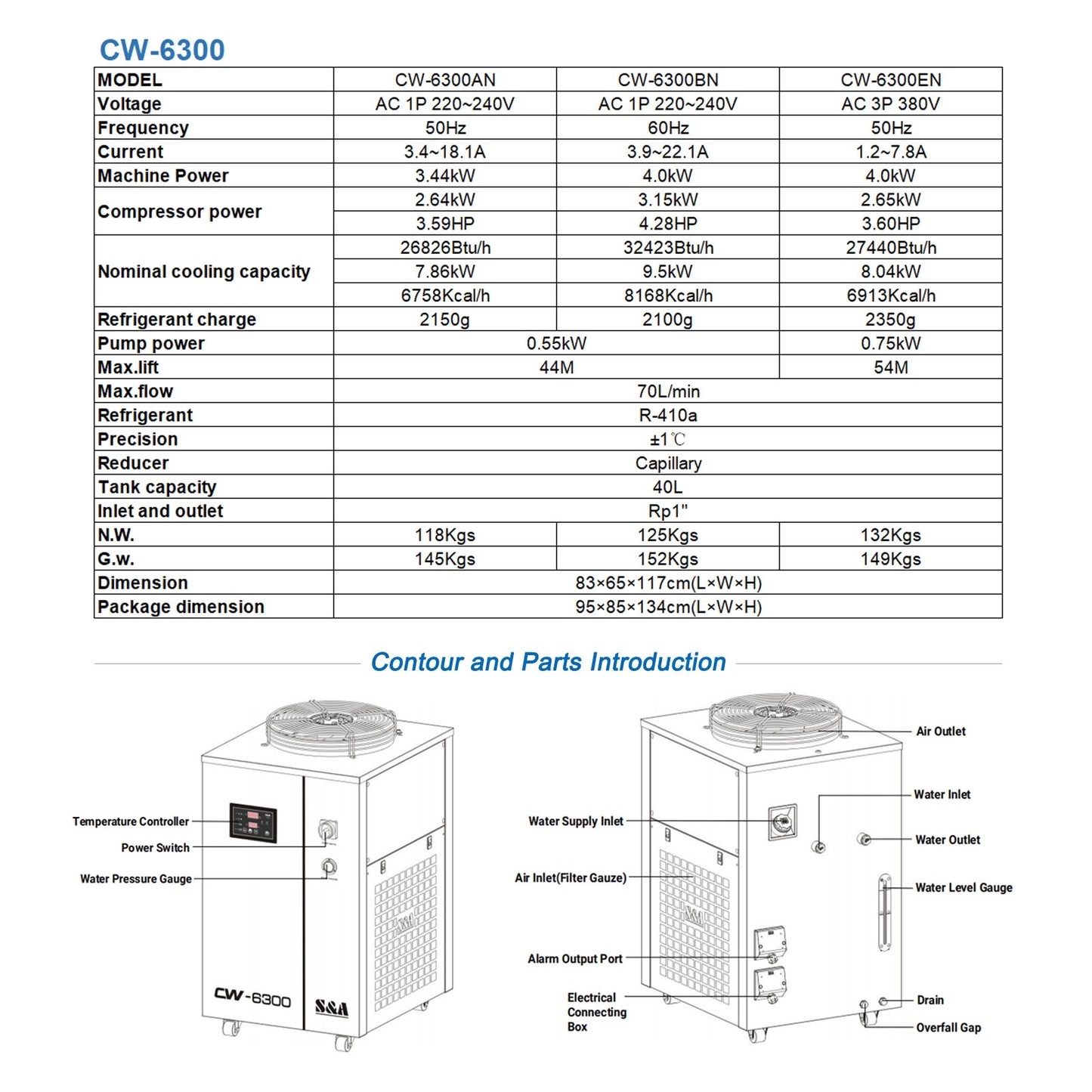 Flash Sale - Lowest Prices & Discounted Prices
FAQs
What about the shipping method and time?

By Expedited Shipping (by DHL/Fedex/UPS/DPD), door-to-door service.
1. General products,
CN Warehouse: 5-9 Business Days
UAS Warehouse: 3-5 Business Days
EU Warehouse:5-7 Business Days

2. Customized products (Only Support Shippment From China Warehouse)
The average period of production: 5-6 Business Days
Shipping: 5-9 Business Days
(Notification: Customs clearance inspections may cause delays of 2-3 days in logistics)1. General products

By Sea or Air to sea or airport (door-to-door service is optional)
It is for larger cargo.
The delivery time depends on the detailed shipping address, please check the exact time and cost with us.
What about the Customs Duty and VAT or Tax?

1.If your order was shipped from China,the pice doesn't include the import tariff duty, tax, or VAT.
The tariff duty, tax or VAT depend on local law and policy in difference country. The buyer needs to cover the cost.
2.If your order was shipped locally, such as from US ,AU or Europe,the price includes the duty,tax or VAT. The buyer don't need to pay customs duty, tax or VAT.
3 .Part of products in EU and US support PICK UP ON SITE Please check with us about the detail if you need.
If you can provide the invoice?

Yes,if you need the invoice,please contact with service@mcwlaser.com
What is your product warranty like?

Notification: 

All customer support services and policies will be only applied to orders on https://www.mcwlaser.net/
https://www.mcwlaser.com/
MCWlaser Amazon Store

If your products are not purchased from our official website or our Amazon Store, but purchased through another third-party platform, we will not be responsible for your order.

Please view our detailed warranty instructions: https://www.mcwlaser.net/pages/warranty

If you have any questions, please contact us:
Email: info@mcwlaser.com
Whatsapp/Wechat: 0086 18121236578
I failed to process the payment via credit card, what should I do?

If you are having difficulty processing payment via credit card, there are a few steps you can take:

Contact your credit card company: Verify with your credit card company whether the amount exceeds your spending limit and ensure that all payment activity is being authorized by you. It's also possible that your credit card company is experiencing technical difficulties or maintenance, which is preventing the payment from going through.
Contact the merchant: In this case, you should contact the merchant (in this case, info@cloudray.com) immediately to inform them of the problem. The merchant can check if there are any issues on their end, and help you troubleshoot the problem.
Use an alternative payment method: If the problem persists, you may want to consider using an alternative payment method, such as PayPal or bank transfer.

Remember to always exercise caution when making online purchases and to protect your personal and financial information.
MCWlaser Product and Service Support
Regardless of whether the product purchased by the customer has reached the warranty period, MCWlaser provides lifelong technical support for all customers who purchase products at https://www.mcwlaser.net/.

For complex technical issues, we provide expert support services (only for customers who purchase products at https://www.mcwlaser.net/), and our experts can assist customers to solve problems through remote operation or video calls.

We offer regular promotions, follow us on our website and social platforms, or ask our online customers. All promo codes are valid only at https://www.mcwlaser.net/.
This is exactly what I needed for my laser cutter! It keeps the machine running cool which will increase the longevity of the laser tube.
It does a great job
I live in Texas and run my laser machine in my garage, this water chiller can keep my machine cool enough to work a full day with no issues.
The original chiller had an issue but the after purchase support was very good and with some minor troubleshooting we determined the cause. It is a high quality and great chiller and should be good for years of use.